How to Customize the Perfect Chairs for Your Church
Posted by admin on November 04, 2013 in Church Chairs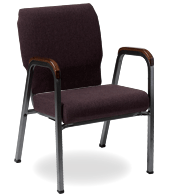 Choosing the right church chairs is extremely difficult when trying to infuse your sanctuary with a welcoming comfort and warmth. Today, church pews are replaced by plush, upholstered chairs that can be fastened together and customized with accessory options. These chairs will allow you to easily suit the specific design, colors and comfort requirement of your sanctuary's layout.  Here are some tips to help you personalize the perfect seating layout for your church:
Color and pattern
There is a wide array of colors and patterns available for church chair fabrics. You should choose the combination that perfectly fits your current décor. You also need to remember that your chairs must be able to withstand heavy wear and tear and therefore you need to select easy to clean and durable fabrics. Light colors will show dirt quicker than darker shades, so pick your colors accordingly.
Frame finishes
It is recommended that you seek ultra-durable coatings that enhance durability in your metal frames, not just looks. Check to see if your metal finishes have been saltwater tested and for how many hours. Also, verify how the frame finish is achieved. Thermally fused coatings are best as they are designed to adhere to the metal surface and withstand heavy wear and tear. As far as appearance, you have the opportunity to customize your church chairs with different shades and colors.
Dimensions
The height of church seating usually standard, 34 inches, width is quite customizable and ranges from 20 to 23 inches. The wider your church chairs will be, the more space they will take up. Narrower chairs, on the other hand, will bring you more space and will accommodate more people. However, you should not sacrifice comfort and choose really narrow chairs. You have to find the most adequate compromise between space-saving solutions and comfort. Don't forget you also have the option of choosing church chairs with or without arm rests.
Accessories
Depending on the specific particularities of your congregation and also on your budget, you may choose to customize your church chairs with accessories. For example, if you still want the benefit of fixed seating, you can opt for upholstered theatre inserts that keep church chairs together in a pew-like line. In case of church chairs with arms, you also have wood arm caps in different finishes. To maintain an aisle like appearance, you can have upholstered pew ends. Many church chairs manufacturers also offer the option of adding card or book pockets and book racks, for the convenient placement of guest cards, tithing envelopes or hymnals. Adding a cup holder to some of your chairs is also a good option to allow for the clean and convenient placement of communion cups.
Church chairs are an important investment and you need to pay attention to details when making such an important decision. Always value quality over price and make sure that you look into the manufacturing technology and the quality of materials used. In the end, your warranty is also very important as church chairs need to withstand long years of use.