How to Choose Beautiful Banquet Seating For Your Venue
Posted by admin on April 26, 2013 in Church Chairs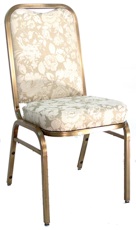 Hospitality is definitely a delicate matter and making guests feel welcome is not an easy task. Choosing the right banquet seating allows you to receive your guests in a royal-like setting and transform every occasion in a memorable event. Yet, banquet seating needs to be sturdy and able to endure years of abuse without showing any sign of wear and tear. Here are some tips on how to choose beautiful banquet seating for your venue:
Upholstery or Fabric - The fabric of your chairs defines the level of elegance for banquet seating. The design and fabric have the power to make your venue an inviting and warm place for guests to enjoy the time they will be spending there. Yet, choosing the fabric involves many subtleties that go beyond the selection of the right color or pattern. It is the fabric that keeps banquet seating looking good and new for years. Therefore, you need to choose the most appropriate upholstery fabric for your specific needs. For example, for bars and heavy duty venues, fabrics need to be exceptionally resistant to wear and tear.  Also, they need to be easy to clean, stain, scuff, and scratch resistant.
Seat Depth And Height - The depth of banquet seating needs to bridge the gap between the comfort of guests and your space efficiency. Comfort is definitely an important factor in your decision as making guests feeling comfortable is your business. On the other hand, banquet seating that is "too comfortable" will create a bit of a problem when it comes to space efficiency. The best thing you can do is to take the time to determine which seat depth is to your best advantage in every respect. Choosing the seat height depends on the actual space and arrangements of your venue.
Size Of Banquet Seating - It is really important that you pick the right size for the right venue. You need to consider all factors involved in this decision: the type of establishment that you are running, typical customer base, spaciousness, overall décor and environment, intended use, and so on. If you are aiming to create a luxurious and high impact establishment then large seats are what you should be looking for. On the other hand, for venues where you need to accommodate larger groups, smaller seats will be more appropriate.
Metal And Wood Finishes - Apart from their aesthetical role metal or wood finishes need to be quite resilient to all sorts of actions. Banquet seating is not only intensively used, but it's moved around and rearranged in many different ways. All banquet chairs come in contact with all sorts of factors that tend to damage the wood or metal finish, including vacuum cleaners, tables, other chairs, and so on. These factors can cause scratches, scuffs, dents, cracks, and more. For that reason, you have to carefully choose metal or wood finishes so that your banquet seating lasts for a long time.
For many years, hotels, conference centers, banquet halls and more have trusted Chairtex to provide them with the best in banquet seating. Click here to browse our collection of stackable banquet and convention chairs.